Regardless of age, family or professional status, if you're searching for a quiet, well-accommodated area to live then Northwood is ideal.
An affluent suburb of North West London close to the border with Hertfordshire, Northwood is known for its fast tube links and excellent schools both state-funded and private. Its wide leafy roads and modest streets are surrounded by open countryside and ancient woodlands, all within easy reach of the capital for work, theatres, restaurants and shops.
Families and young professionals are attracted to the area and many retirees choose to stay on when they downsize having grown strong roots throughout the area over the years.
If you're considering moving to a quiet area as a base to commute to London or simply want to get away from the hustle and bustle of city life, Northwood offers the ideal balance.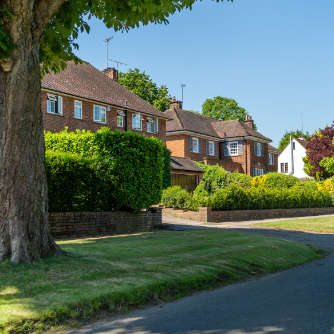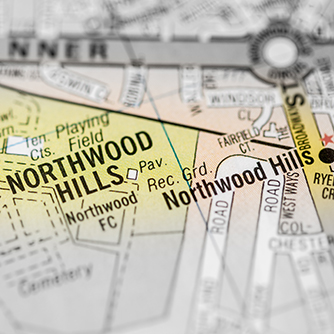 NEED TO KNOW
Northwood was a small farming hamlet until the arrival of the Metropolitan Railway in 1887 after which it quickly developed with homes and shops making it the commuter hotspot it is today. Its busy high street has many popular cosmopolitan eateries from Italian to Argentinian as well as a choice of independent shops, with national regional brands (such as a Waitrose supermarket) also having a presence. Haste Hill, Ruislip Woods and Batchworth Common are popular spots for walks, while Oxhey Woods is a local nature reserve with several nature trails through the 100 hectares of ancient semi-natural woodland.
Horse-riding, cricket, tennis, football and rambling clubs are on offer as well as a Virgin Active Gym for people to keep fit. Local groups include an operatic society, choral, local history and flower arranging clubs, while community involvement can also be found in local places of worship which include several churches and a synagogue.
Moor Park is a prestigious private residential estate with its own golf course and tube station, with Northwood itself being strategically important as it's the home of the UK's Military Headquarters and NATO Command. Mount Vernon Hospital is a renowned regional treatment centre so excellent medical treatment is at hand.
PUBLIC TRANSPORT
Northwood and Northwood Hills Metropolitan Line tubes are in Zone 6, Moor Park is also in Zone 6/7. Buses run to Ruislip, Harrow, Uxbridge, Denham, Northolt, Greenford and Ealing and into Hertfordshire, including Watford.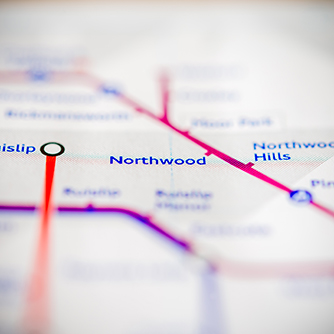 SCHOOLS
State infant and primary schools include Eastbury Farm School, Frithwood, Hillside and Holy Trinity (for a full list and catchment areas visit the local council website at www.hillingdon.gov.uk). Northwood School and Haydon School are popular secondary schools, while St Helen's, Northwood College and Merchant Taylors are a magnet for families seeking a private education. The RNIB Sunshine House specialist school is located in Northwood too.e specialist school is located in Northwood.
PROPERTY
While there are some early Victorian period properties most homes in Northwood and Northwood Hills date from the late 1920s onwards. Private estates of large luxury detached homes built in the 1970s and 1980s are now well established and popular. New build high-specification luxury apartments and houses are in limited supply, renting as soon as they are listed. Linksway, Northgate and Murray Road are some of the most sought-after roads.ost sought-after roads.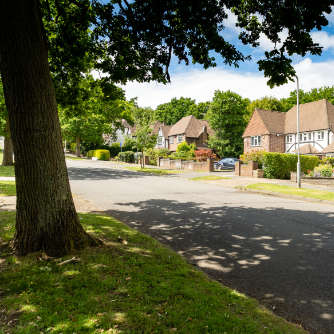 COUNCIL TAX
Northwood comes under the London Borough of Hillingdon. The annual council tax rates for 2022/23 are:
Band A: £1,105.90
Band B: £1,290.22
Band C: £1,474.55
Band D: £1,658.87
Band E: £2,027.49
Band F: £2,396.15
Band G: £2,764.77
Band H: £3,317.72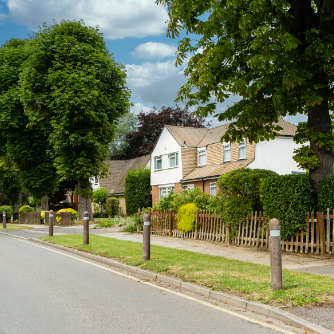 GET IN TOUCH
Here at Paige and Petrook, we know the lettings market inside out. As a family business, we endeavour to stay ahead of the game when it comes to residential lettings for tenants and landlords in North London.
Our team of qualified lettings experts work with landlords and tenants to place the right tenant in the right property. We consider all requirements and preferences, and search through our extensive database of properties to find the perfect match for our clients. For more information on living in Northwood – and full details of all the lettings services we provide please – please do not hesitate to call us on 020 8866 5666 or email info@paigeandpetrook.co.uk