Café culture is alive and well in picturesque Pinner where the number of coffee shops has boomed by 22 per cent in recent times. It's a well-heeled suburb noted for its High Street of timber-framed medieval buildings leading up to the 14th-century parish church of St John. Popular with families for its excellent schools and low crime rates it's a well-established and culturally diverse part of outer London.
Fast tubes from Pinner station on the Metropolitan Line reach Baker Street in just 27 minutes. There's easy access to the M25 at Maple Cross, M40, M1 M4, and it's a 30 min drive to Heathrow Airport. While most of the chain restaurants including Café Rouge, Carluccio's, Prezzo and Pizza Express are present, there are also independent eateries, delis, cafés and interiors retailers side by side the upmarket charity shops. The Queen's Head pub is one of the oldest buildings in Pinner. Sainsbury's, Marks & Spencer, Lidl and Tesco have town centre stores. The Pinn Medical Centre has a wide catchment area.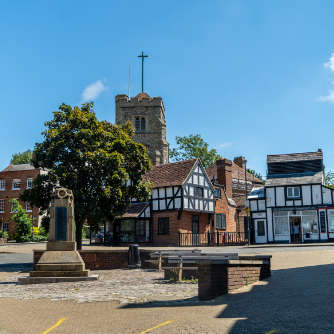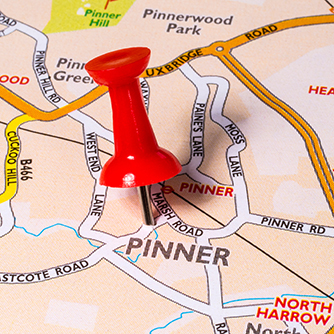 NEED TO KNOW
Pinner expanded rapidly in the Twenties and Thirties when a series of garden estates, including the Pinner Wood estate conservation area, were built as the Metropolitan Railway expanded and John Betjeman's Metroland with its golden age of Mock Tudor style houses arrived. A strong local community keeps Pinner popular with key events celebrated each year including Pinner Fair in May, granted charter status in 1336 by King Edward III, and Pinner Village Show in September. Pinner Memorial Park in the town centre has a duck pond, café, bowling green, ornamental peace garden and aviary. It is also home of the recently opened Heath Robinson Museum dedicated to the life and work of the humorous illustrator who lived in Pinner in the early 1900s. A 12-mile walk along the River Pinn starts in the centre of town. Rugby, cricket, tennis and football clubs are available to join and there is a there's a thriving theatre group The Pinner Players.
PUBLIC TRANSPORT
Pinner Metropolitan Line tube is in Zone 5. A wide network of buses serves the local area.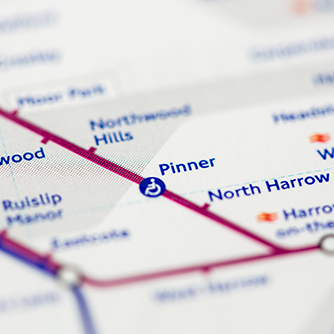 SCHOOLS
Pinner has a good choice of state primary and secondary schools with many judged "outstanding" by Ofsted. West Lodge, St John Fisher, Pinner Wood School and Pinner Park nursery and infant are popular. State secondary schools include Nower Hill High School, Northwood School, Pinner High School, Haydon School, the Sacred Heart Language School and Harrow High School. For a full list and catchment areas visit www.harrow.gov.uk. Independent schools for nursery and primary levels include Reddiford School co-educational and St John's School for boys. Senior independent schools include Northwood College, St Helen's, Haberdashers' Aske's for boys and girls and The John Lyon School.
PROPERTY
Pinner is known for its Edwardian, Art and Crafts, Art Deco and Tudor style properties and these come in all sizes from mansion block apartments to large detached properties. The Pinner Wood Park Estate conservation area is one of the first garden suburbs built in the 1920s in the Arts and Crafts style. West Way, Moss Lane and Northfield Avenue are sought-after roads.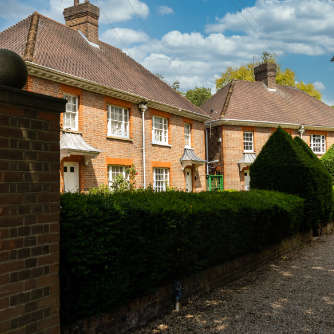 CLAIM TO FAME
Elton John grew up in Pinner attending local schools. Pinner is often used as a film location and most recently Eddie Redmayne was spotted in the village while shooting Stephen Hawking's The Theory of Everything.
COUNCIL TAX
Pinner comes under the London Borough of Harrow. The annual council tax rates for 2022/23 are:
Band A: £1,361.40
Band B: £1,588.29
Band C: 1,815.20
Band D: £2,042.09
Band E: £2,495.89
Band F: £2,949.69
Band G: £3,403.49
Band H: £4,084.18